I finally got off my butt and ordered from
Shiro Cosmetics
! I was mostly interested in the Intertubes, since I already have zillions of eyeshadows (not really). I ordered 4 eyeshadow samples, some stickers for depotting them, and all the Intertube samples.
I won't bother talking about the shadows since there are swatches and reviews everywhere about them, and they totally live up to the hype! Also the samples are ridiculously generous, they very nearly overflowed the 3g jars I keep arouund for samples. Since the Intertubes are going to look quite different on different skintones and sized/shaped lips however, I thought it'd be a bit useful to swatch those. Since I did get ALL of them :)
I don't have a great lip brush at the moment, so these are all done with my finger.
Three Wolf Moon
Gorgeous muted red with cinnamon scent/flavor. This did sting my lips a bit but died down after a minute. I'm getting a full-size of this for sure. I love it!
Longcat
Barely visible on my lips (applied over a lip stain here) but it's really zingy and minty. Gives a hint of silvery sparkle without becoming frosty. I don't usually like minty anything, but... I think I'll be getting this in a full-size! Gives a lovely intense cooling sensation.
Over 9000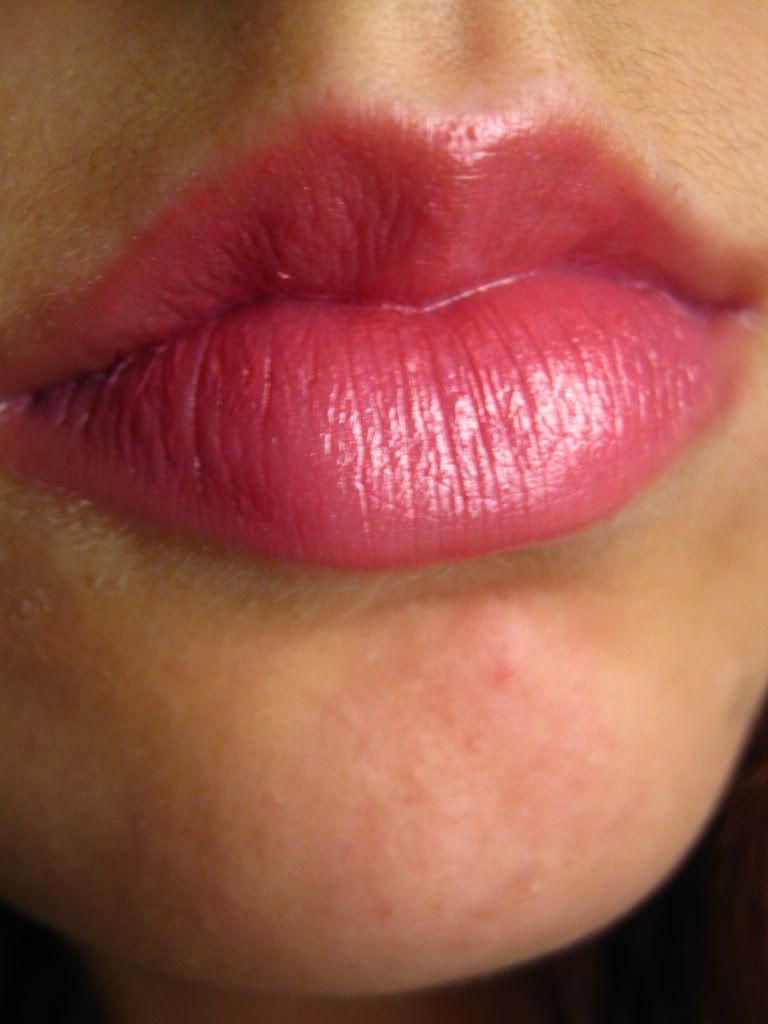 Really pretty soft bubblegum pink. Bright but still really flattering. I don't own a lot of pink-y lip colours, and this can be built up or sheered down, so... I think I'll have to get a full-size of this too.
Rickrolled
Love the meme, gorgeous colour... EW. I had to photograph this quickly and take it off. The smell of ginger doesn't agree with me. I might see how Caitlin feels about doing unscented tubes.
Numa Numa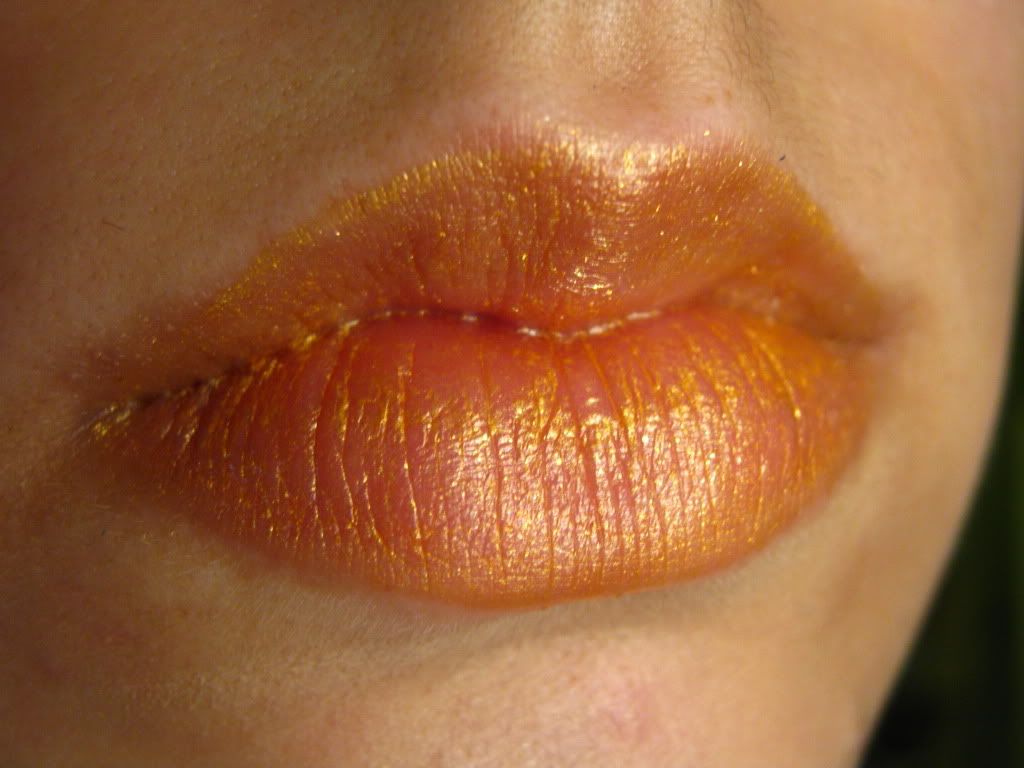 Sheer, frosty gold with an orangey base. Wish it looked better on me, it's very pretty and smells like creme caramels! They're one of my favourite desserts. The frostiness just settled into my liplines and accentuated all my dry bits :(
Leeroy Jenkins
Smells like... toothpaste?! I wanted to love this colour but it's pinker on me than I'd hoped. Also it's quite streaky. Maybe a full-sized version would be a bit more even, but overall, I think I'll pass on this one.
Yo Dawg
Smells a bit like Ribena. Muted, purplish-fuschia colour. A bit meh for me since I don't really like pinky-berry-fuschia type colours.
Chocolate Rain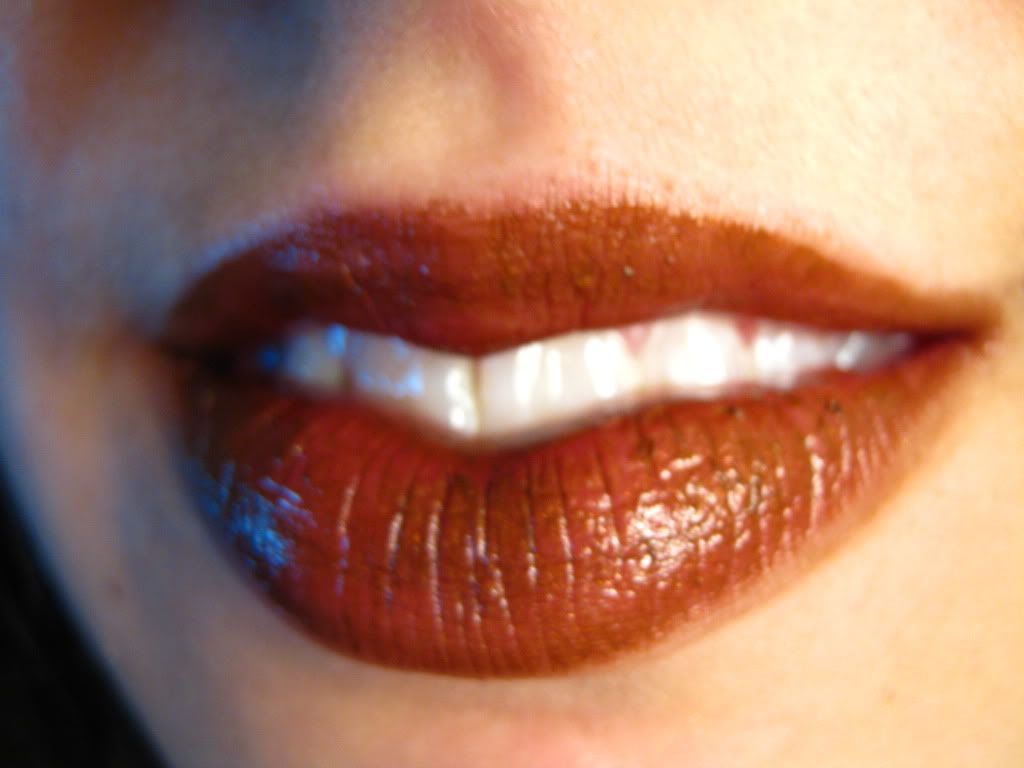 This smells like Chicos... heh. Probably one that could have benefitted from lip brush application. It was quite patchy. Brown is probably the ONLY colour I don't like on my lips, so for that reason I won't be purchasing this in full-size. That and I'm not a huge fan of Chicos either. I mean, if they're there, I'll eat some, but I'd rather have real chocolate/real jelly babies.
Sad Keanu
Deep violet. Another one that just wouldn't even out on me! I think applying this from the tube, to exfoliated lips, would have produced a much nicer result. I already have lots of purple lip products though, so I'll probably give this a miss anyway.
Robe and Wizard Hat
I thought I'd have the same application problems with this as with the other more pigmented shades, but as you can see, I actually managed to get it quite smooth and opaque. Love this one, but if I wanted dark blue lips I've got my beloved Blueberry lipstick from Morgana :) if you missed out on that, however, this is a seriously gorgeous alternative. It's also a much lighter texture, given that Blueberry is a lipstick and this is an Intertube.
Phew!
Do you have any Intertubes? Are you planning on getting some? I reccommend samples, they're $1.80US each and good for several applications.